Recent News and Articles
Review by William Scott. Including a personal memoir of Donald Michie, Bletchley Park, at the end.
© William WC Scott, 23th June 2022
---
This book, entitled 'The Emperor's Codes' published by Bantam in 2000 is riveting and important.
Some of the revelations are astonishing and likely to be applicable even today.
Eg p21 'The record of the US Navy on co-operation, not just with the British but with their own Army, was not merely lamentable, it was shameful', p22 The existing literature credits this almost entirely to the US codebreakers. In fact, with the exception of Purple, only one of the key codes was broken by an American alone and that in Australia.
p29 'The British had been busy intercepting the diplomatic communications of their enemies, and on occasion their friends, since 1324 when King Edward II ordered that all letters coming from or going to parts beyond the seas be seized.'
p29 'The British Army was the first organization to realize the potential intelligence to be garnered from 'censoring' the German diplomatic communications sent on the cables of the international telegraph companies. The War Office set up a special section, MI1b, inside military intelligence, (Room 40) recruiting a number of eminent academics, a mixture of classicists and Egyptologists, to break the German codes. Shortly afterwards. the Royal Navy followed suit on the orders of Winston Churchill, then First Lord of the Admiralty.'
by William Scott
© William WC Scott, 23th June 2022
---
History has misled us about this. Churchill was not guilty, as a book published by Seaforth reveals. In 'Churchill and Fisher', Barry Gough presents a formidable quantity of quotation from the various main players that supplies, definitively, all the evidence necessary to understand what occurred.
On July 27, 1911, Churchill attended a garden party at 10 Downing Street where he learned that the Home Office was responsible, through The Metropolitan Police, for guarding the magazines in which all the reserves of naval cordite were stored. These had been protected for many years by a few constables. He asked what would happen if twenty determined Germans in two or three motor cars arrived one night. He was told: 'They could do what they liked.' Churchill left the party and phoned the Admiralty from the Home Office.'Who was in charge?' The First Lord was with the fleet at Cromarty; the First Sea Lord was inspecting. An Admiral had been left in charge. Churchill demanded Marines at once to guard the magazines. The Admiral replied on the phone that the Admiralty had no responsibility and no intention of assuming any. Churchill rang up the War Office and demanded a company of infantry. By the next day the cordite reserves were safe.
by William Scott
© William WC Scott, 25th February 2022
---
Read my article on the Bute witches, published in the Isle of Bute News, 25th February 2022.
A new book
by William Scott
© William WC Scott, 11 November 2021
---
An accident and recovery interrupted progress, as did the pandemic. A new book has been written. The best yet. The work of The Genius of Bannockburn CH VI is proved by a totally different method involving a virtually exhaustive investigation of numerous cases of streams.
Some longstanding place names are overturned by the use of maps alone. Over 100 images of maps are involved; many things never seen before or understood. Some revelations which will shock historians: evidence as clear as could be: maps they never saw before, will be embarrassed by: a level of ignorance causing derision. The concept of proof in medieval history has been taken to a new, far higher level. Fifteen propositions, each with a raft of utterly compelling evidence: absolute certainty. The battle understood fully. The Psychology of Bruce: how did he get his Genius Idea? A large number of photos provide a treasure for future generations of how things looked before Stirling Council, badly advised, got on with building in the wrong places. The procedures involved can be used in future to decide almost every issue in medieval history. A few errors in the O.E.D. are corrected. As usual, Barrow and Duncan failed to swim at sufficient depth. Watch this space. If only they had been honourable and not mediocre. That, too, will have to change.
by William Scott
© William WC Scott, 22 May 2020
---
This is the fourth attempt by them to solve this problem and it fails miserably as before. The first two achieved nothing, even though they were sent copies of Bannockburn Revealed (BR) published in the year 2000, (which no one was allowed to mention because it revealed some of the errors of Profs. Duncan and Barrow as Prof. Watson (then a lecturer at Stirling University) admitted. The culture of not correcting the errors of those in control meant they could not do so. Thus, Barrow's choice of the Dryfield as the site, which none of them understood, confused them. That was an impossible site because of the ridges and depressions, a huge one of 75ft and another west of it of 55ft made a cavalry charge across it impossible.
by William Scott
© William WC Scott, 28 April 2020
---
The investigation I set myself is now complete. The entire matter proved with compelling force and hundreds of cases. A few would have been enough but that is not my style. This is the icing on the cake, I think. It was very difficult to do and the fact that I have been travelling all over Scotland, even in the last three years, with many more overnight stays to look at things, photograph them, interview long time residents and make screen shots of important maps, has made it possible. The effort of thought has been intense. It would make a nice book of 30,000 words and the investigation is so deep that none of the information and insight should be cut for the sake of satisfying some arbitrary number proclaimed by a journal. But I will look for one. It will be published, one way or another, in a month or two, I expect.
by William Scott
© William WC Scott, 29th September 2019
---
A full proof of the Battle of Bannockburn, not just the site. A short proof. Why the Scottish History Community has made no progress in seven centuries. Proved. What should be done about it. Mathematical and Historical Proof compared. Appointing professors in future.
by William Scott
Posted on Friday 12th April, 2019
---
By 1993, I thought that the Scots all fought on foot and, because of it, they would be close to the English cavalry. I said so in an article in Quill, ISBN 0952191008, p74. By 1998, after my novel, The Bannockburn Years, won the Constable Trophy and was published by Luath Press, some historians assumed I had not read their work. I had, and knew that our history was in a mess and likely to stay that way, unless I did something about it. I began to seriously collect sources and get them translated. I soon had four who agreed that the Scots fought on foot, every one of them. The first excitement: I knew I was onto something. That meant a Scottish cavalry charge was a mistake. Could I prove it and what else was wrong? Could I take on the Bannockburn Problems and solve them? It would mean giving up being a novelist. I decided I could afford a couple of years at this. It has taken over twenty.
by William Scott
Posted on Sunday June 16th, 2019
---
Because it was achieved 20 years ago in Bannockburn Revealed (BR) and academic historians have never said anything about it. Because of the silence from them, I decided to set about proving everything, much of which had already been proved in BR by developing the concept of proof in this medieval history event and establishing the facts [i] by procedures which (it turned out) were original and utterly compelling. In 2005, the book, Bannockburn Proved, with a cover full of the high praise of several very able men, among them, Irvine Smith QC, was entered for the Saltire Research Award and no comment was made by the judge, Professor Cowan, then head of Glasgow University's campus at Dumfries who awarded the prize elsewhere. Asked about Bannockburn Proved (BP) after the competition, Cowan said he was 'familiar with it.'
by William Scott
Posted on Saturday June 22, 2019
---
Historians make two [i] kinds of errors. Procedural errors and errors of insight. The primary, procedural error is the belief - stated to me with all the gravitas at his command - by Professor Barrow, that nothing can be proved about Bannockburn: the site of main battle, other sites, the road, the strategy and tactics, the training (if any), the numbers of adversaries, the nature of the ground: a map was 'impossible, too much changed in seven centuries.' Thus, there was no concerted effort at any time to collect all the sources or to deal with the question: how can these be used most successfully? Since no one ever collected them, what to do with them was never an issue. There is a fundamental error in all of this. That what is past is past and no one can know anything about it. Especially when it is an event that occurred seven centuries ago. All historians can do is speculate.
by William Scott
Posted on Thursday 28th February, 2019
---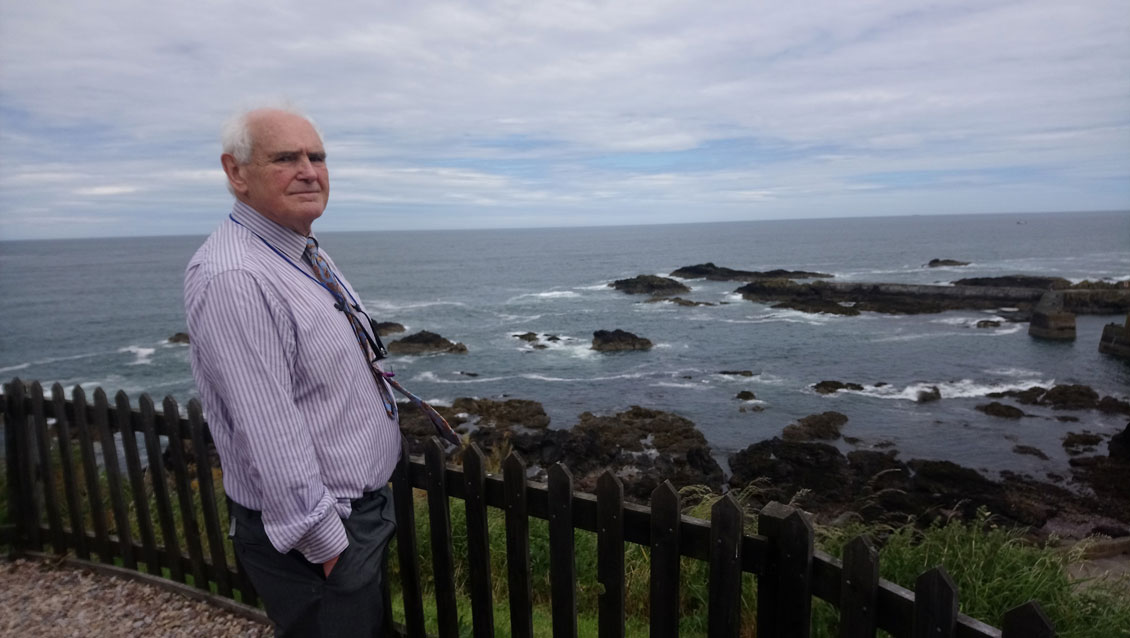 © image of author William Scott
---
Our new website has arrived.

Have you read the Novels: The Bannockburn Years; Bute Crucifixion; Honour Killing in Argyll & Bute?
---
Read more
Would you like to be part of the mailing list?
Contact the author